Outspan Hospital Pharmacy was founded with the goal of becoming a nationally recognized pharmacy that offers a wide selection of high-quality pharmaceutical and non-pharmaceutical (including surgical equipment) products, at an affordable cost.
At Outspan Hospital Pharmacy, we prioritize our clients' needs above all else. We have taken steps to ensure that all necessary products are readily available and in compliance with current recommendations and regulations from the Pharmacy and Poisons Board.
If you have a prescription, we are here to fulfill it. If you are unable to find what you are looking for, please let us know, as we may be able to assist you. Our goal is to make your recovery process as smooth and efficient as possible.
When procuring drugs, we assess their quality based on various factors such as label claims, the reputation and legality of the manufacturer, packaging, performance compared to alternative preparations, and cost. These drugs are sourced from over one hundred companies registered by the Pharmacy and Poisons Board of Kenya.
At our pharmacy, we value you as a customer and strive to offer high-quality products at competitive prices. We stay up-to-date with the latest pharmacy trends and stock a wide range of products, including surgical and theater items, injectable antibiotics, vaccines, various types of insulin, antineoplastics, disposable operating theater items, minor theater items, electrodes, thermometers, ambu bags, BP machines, stethoscopes, sutures, catgut, orthopedics, implants, urine, colostomy and urostomy bags, all forms of catheters, immunoglobulins, Mirena breast pumps, parenteral feeds, enteral feeds, and emergency drugs.
In addition, we carry both pharmaceutical grade natural supplements and budget-friendly economy supplements.
We also offer delivery services, through dawa express, by bringing your prescriptions directly to your doorstep.
The Department is open 24 Hrs. seven days a week, providing round the clock services including Public Holidays.
Our pharmacy department is staffed by a team of highly qualified professionals who regularly attend professional seminars and workshops to improve their skills. One of our specialties is custom compounding, as our staff is well-trained in this practice. This training guarantees that we compound accurately and in accordance with the best laboratory practices.
We look forward to working with you. Please feel free to speak with our pharmacist to learn more about how our compounding services can benefit your patients. To make your job even more convenient, we also offer personalized prescription pads.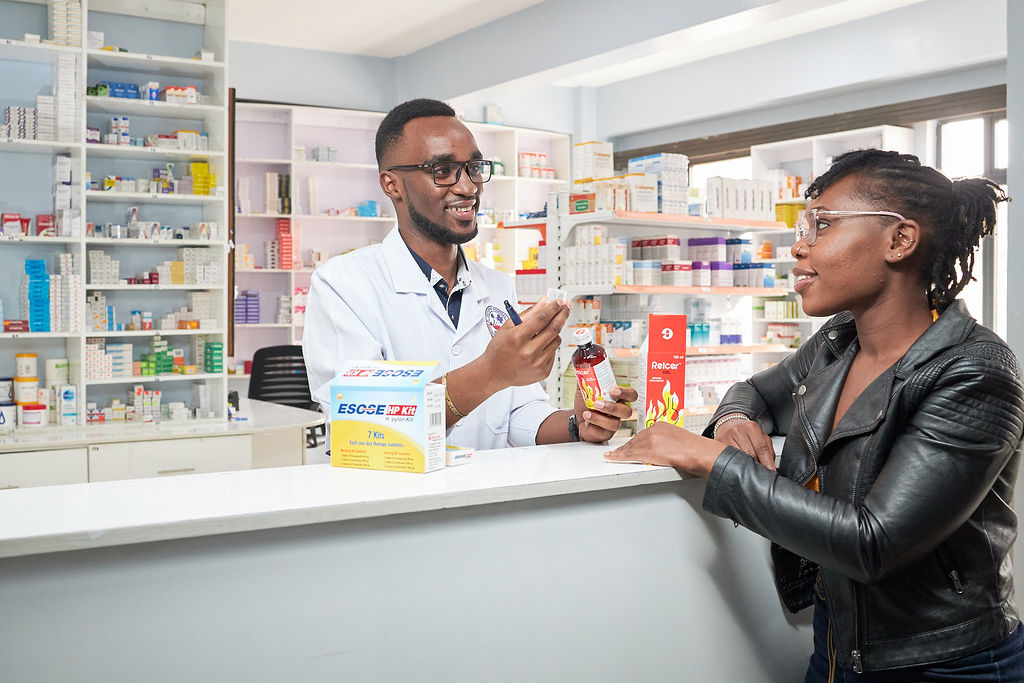 Wound care machines (bookings)
If you or someone you care about has ever experienced an injury, you understand the importance of having the proper wound care products. Our pharmacy specializes in providing a wide selection of wound care products that may not be found elsewhere. We carry a wide range of specialized gauzes, bandages, closures, and topical wound care products that may be recommended by your doctor.
We assist you in making your medication management at home more manageable and convenient through our "Me-u-dose" service. Additionally, we can help you sort and organize your medication at home with our "drop bag" service.
Travel immunization vaccines/other vaccines
Outspan hospital pharmacy can help you obtain and locate the appropriate general and travel vaccines. Don't hesitate to ask us how we can prepare you for your trip.
You can access /call our mobile line 0727251731 or WhatsApp us using the same line.