The Outspan Teaching and Referral Hospital Imaging department offers comprehensive imaging services using the latest imaging technology and specialized expertise to give you the best and most accurate diagnosis. These images aid in the diagnosis and treatment of diseases within the body.
Services
X-rays
Ultrasound
CT Scans
MRI
Dental
Electrocardiogram
Echocardiography
Mammography
X-Ray
We perform all x-ray procedures using state of the art digital equipment. We also issue radiological reports on the images. This service helps in the assessment of various body structures our services are:
Routine/general X-rays.
Portable X-rays in the wards.
Theatre X-ray services (Image intensifier).
Special X-ray examinations (Hysterosalpingography, urethrogram and barium studies)
Ultrasound
We offer a wide range of ultrasound examinations in our department which includes:
Abdominal ultrasound
Pelvic ultrasound
Obstetric ultrasound
Prostate ultrasound
Small parts ultrasound including thyroid gland and scrotum
Cranial ultrasound for children less than one year old
Doppler ultrasound to evaluate blood vessels
Liver and biliary system ultrasound
Musculoskeletal ultrasound
Intracavitary ultrasound
We also perform ultrasound guided procedures
Computerize Tomography Scanning (CT SCAN)
Our state of the art 64 slice CT scanner enables us to have exceptional image quality, henceforth better diagnosis. Among the scans we perform are;
Head CT Scan
Abdomen and pelvis CT Scan
Chest CT Scan
Neck CT Scan
Spine CT Scan
Vascular CT Scan (angiography)
Musculoskeletal CT Scan
MRI
Our Siemens MRI machine is the only 3.0 Tesla MRI scanner in the Mount Kenya region. The higher field magnet ensures better quality images compared to 1.5 Tesla or lower field magnet machines. Our services include;
Brain MRI
Spine MRI
Abdomen MRI
MR Angiography
Extremities MRI (knee, shoulder, hands, feet, ankles, pelvis.)
Regional examination (Neck, sinuses, muscular)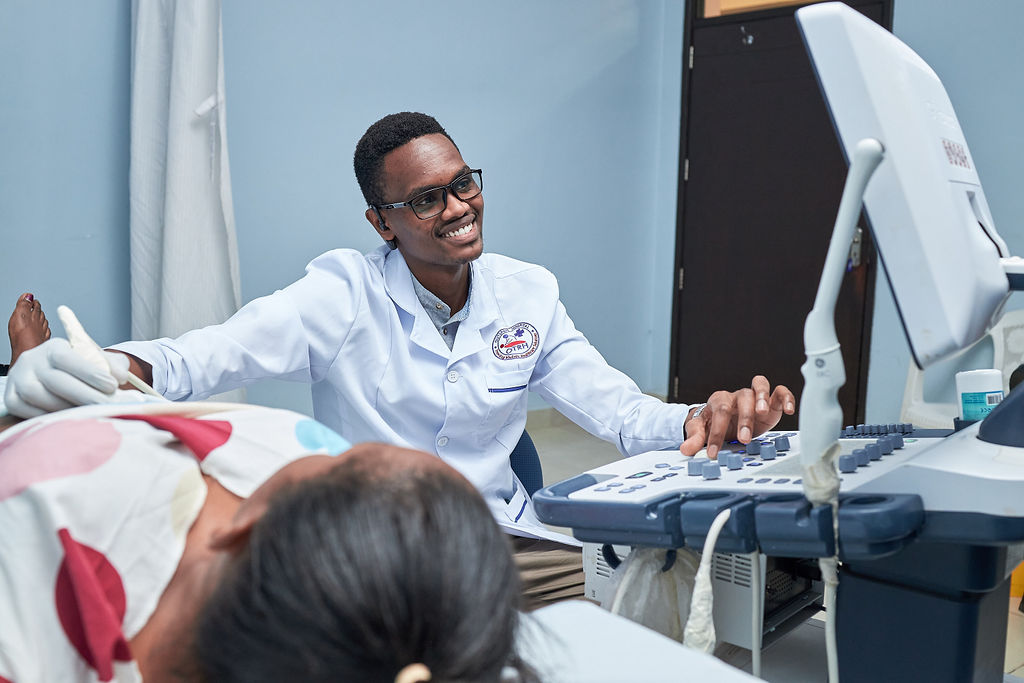 Teleradiology
We offer teleradiology services where high-quality patients' images are transmitted from one facility to another for reporting by a radiologist. This service is helpful in cases where;
Facilities lack expertise or imaging equipment
Consultation on complex cases is required.
Electrocardiogram
Our doctors provide tests that detect heart problems and monitor your hearts health. A doctor performs an electrocardiogram to detect;
Arrhythmias or abnormal heart rhythm
Coronary artery diseases
Infection or inflammation of fluid around the heart
Enlarged heart muscles
Congenital heart defects
Signs of previous heart attack
Heart disease treatment progress
Echocardiogram
Our ECHO specialists perform an echocardiogram to monitor how the heart and valves are functioning.
The doctor suggests echocardiogram to;
Check problems of the valve or chambers of your heart
Check if heart problems are the cause of symptoms such as chest pains and shortness of breath
Detect congenital heart defects before birth.
The type of echocardiogram is determined by the information the doctor requires.
Mammography
We offer routine breast screening for women from the age of 35 years to check for breast cancer and other breast abnormalities such as lumps. In addition, women from the age of 35 are advised to have yearly breast screening while lactating women and those below 35 years a breast ultrasound is performed.
You can walk in and access our services without booking an appointment.
Opening Hours
Monday  – Sunday  8 AM -9 PM
We provide 24hrs inpatient and outpatient Emergency services.